Air Conditioning Hose Solutions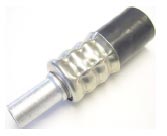 We can reuse your old fittings
Replacement air conditioning hoses can often be hard to find. Our A/C hoses are the solution. We can often use the original fittings from a damaged hose, re-fitting them onto a brand new high quality hose. We use ferrules specially designed to accommodate many popular fitting types. This guarantees a quality hose that fits every time.

Two Polyester spiral barrier hose - J51 AII Outside Diameters Temperature Range -22°F to 257° F (-30°C / 125°C) - Compatible with R-12/ R134a refrigerants - Mineral oil / PAG's - Meets J2064 "TYPE C Class II" Hose Performance - Low Volumetric Expansion - Dimensionally Stable - Flexible - Easy to Route
For more information contact Jared Pinkalla 262-554-1170 Jared's Page.